E-Classrooms
Akal Academy has constantly endeavored to integrate technology changes into the education system. The e-classrooms are being developed for each class. We Installed 1650 Smart board across the schools.
Green Initiative
The mission of the Go Green Initiative is to provide school with the tools and training they need to create a "culture of conservation" within their community. Our goals are to conserve and protect natural resources for future generations
Library
The library serves the school's learning community by providing instruction and support in all curriculum areas through quality print and technology rich resources to advance best practices and strategies
Communication lab
The Communication lab is a state-of-the-art environment, optimally designed for the multimedia capture of conversational social interaction.We installed 2 labs Using High Definition projectors, microphones,speakers and complexities of an interaction can be captured for subsequent analysis.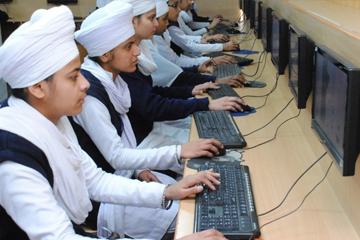 Computer labs
Akal Academy has 3 computer labs featuring over two hundred computer systems. The computers in the lab have been upgraded with appropriate software. The Senior, Junior and Sub-Junior Computer Lab enable students to learn all the major software's.
Sports
We provide a wide range of sports activities.Like football, basketball , hockey, cricket, gym , indoor and outdoor tennis. Our motive is "Without healthy experiences outside the classroom, many children are at risk of obesity, depression and many more problems".
Nestled in sylvan surroundings with hills all around, Akal Academy boasts of a sprawling residential campus spanning over 200 acres, with the state-of-the-art facilities like Wi-Fi, a well stocked library, a fully quipped gymnasium and enough sports ground to nurture the mind and body of the young students. Practically all their daily needs are taken care by ARY-a super market. The facilities of a canteen, laundry and bakery exist on the campus to make life easy for the students